Local Long Distance
In addition to HD Digital and Residential solutions, BeyonTel can also assist with setting up local and long distance voice services, using the power of Cloud PBX.
Local Voice Services
Depending on the nature of your business requirements, BeyonTel can work with you to provide one or more of these local voice services:
Local HD Digital Voice
At BeyonTel, we firmly believe that no one should have to pay for old, redundant technology and invest in expensive telephony equipment unless there is no alternative.
We can replace your standard local voice with a Local HD Digital Voice solution, which provides you a local number in your calling area. This also comes with our Cloud PBX service to deliver highest reliability, quality and powerful features.
National Local HD Digital Voice
In this age of telecommuting, a lot of organisations regularly need to connect offices and employees remotely. BeyonTel can setup a National Local HD Digital voice solution which allows you to have a local number nationally so that you connect with your clients and customers centrally, avoiding any confusions.
Long Distance voice services
For a small fee, BeyonTel can provide you interstate, long distance and international calls on a single bill, simplifying your billing. As Cloud PBX is controlled and managed via a web interface, you can constantly upgrade these services as required.
With Hosted PBX, we can also provide:
100, 50, 25 and Single Number Ranges
13/1300/1800 Answering Points
More about local and long distance calling
Contact BeyonTel on 1300 769 640 and we will gladly assist you controlling the local and long distance voice services.
SIP Trunking
What is SIP Trunking?
Session Initiation Protocol (SIP) Trunking is a VOIP based service that allow BeyonTel deploy telephone and other unified communication (UC) services to clients equipped with SIP based Private Branch Exchange (PBX) and UC capabilities. A SIP Trunk is a direct connection between your Digital Business and BeyonTel that allows you to leverage the power of IP based telephony beyond your organisation's boundaries.
In addition to voice calls, SIP trunks can carry instant messages, media conferencing, user presence information and real-time communication pieces.
Benefits of SIP Trunking
Deploying SIP Trunking on your network can not only simplify your business communication, but it can also dramatically reduce costs, converting expenses into profit.
Save money – SIP Trunking works brilliantly to cut costs on long distance calling.
Eliminate subscriptions – With a SIP Trunk directly talking to BeyonTel, you can forget about paying heavy subscription fees. Furthermore, you can plan your network and pay only for connections that you need.
Forget IP-PSTN gateways – SIP Trunks connect directly to your service provider (BeyonTel) and without any copper wires involved, you can effectively forget IP-PSTN gateways and associated costs. If you invest in BeyonTel's Hosted PBX/UC solution, you will see substantial savings in terms of effort in managing as well as complexity of setting up the network.
Make free on-net calls between your SIP Trunking and Hosted PBX services.
Scalability – If your business structure changes in the future (up or down), BeyonTel can easily configure the network to assist this transition. During busy business periods, a SIP Trunking feature called "bursting" increases your total calling capacity, providing effortless business continuity.
Why choose SIP Trunking?
BeyonTel's SIP Trunking solution is the ideal solution for any business that wants to eliminate the costs of PSTN/ISDN Line Rentals. It gives you total flexibility to scale the number of lines connected to your PBX, with minimal costs/hassle and access to a range of highly sophisticated and user friendly voice features.
Beyontel's Network Overview

Confused/Unclear about/on SIP Trunking?
Contact BeyonTel on 1300 769 640 and we will gladly assist you with a demonstration of powerful features of SIP Trunking.
Video Solution
Need for video communication
These days, you can have employees located in various locations. Add to this, an increasing number of workers now have work from home arrangements with the business. What do you do when you need to involve all these employees to collaborate and decide on an important offering for the client? Sure, you could get all of them to dial in and have a voice conference, but wouldn't it be more effective if you could get them to chat face-to-face, as if they are all in the same meeting room?
BeyonTel's Video Solution adds another layer to your Digital Business, by allowing you to harness the power of video conferencing. You can call from your computer, phone, mobile or any other device/technology integrated in your Digital Business setup.
Benefits of video communication
High quality video quality streaming
Increased productivity – have virtual meetings across multiple locations, cutting down travel costs
Efficient collaboration between geographically isolated employees
Strong relationships between remote employees
No call charges for video calling online and conferencing within your network
How does Video Conferencing work?
When we set up your Digital Business, ask us to integrate in video conferencing capability in your system. Depending on the type of device, we will install the relevant software which will allow you to make and join in video conferences seamlessly.
Our suite of Video Solution allows you to combine a range of technologies such as:
Video calls to anyone in the organisation with:

Video conferencing
Video handset

Conferencing with external parties using conference bridge (SIP/H.323)
Conference participation over the internet
Beyontel's Network Overview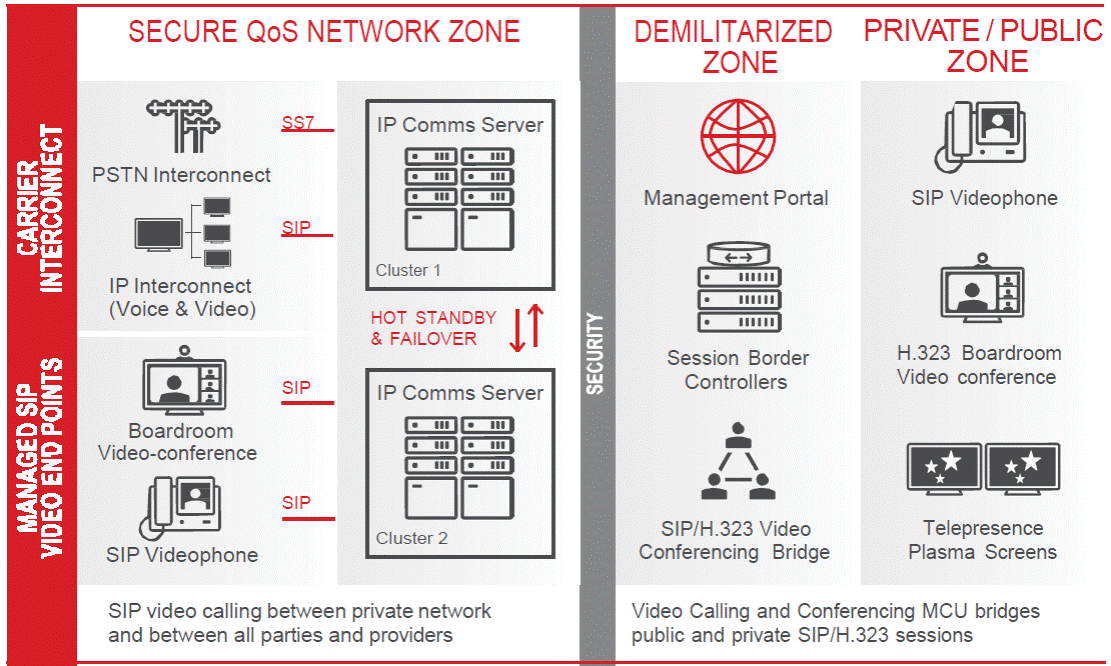 Video Solutions Plans and Pricing
For additional information regarding video conferencing solutions and products, or to speak to a representative, talk to BeyonTel at 1300 769 640, or click here to have a BeyonTel Video specialist contact you.
Web Collaboration
Key Applications
Meetings
Collaborate and connect effortlessly
Multi-person video conferencing over the web
Complete tools for demonstration and presentation
Work together in real-time with shared applications
Webinars
Generate interest or leads
Capture lead information and participation
Schedule, host or archive online events
Integrate audio or use your own bridge services
Learning
Tools that deliver on your design
Engaging, full featured virtual classroom
Breakout collaborative sessions on the fly
Deliver virtual application training and testing
Support
Share desktop or applications instantly
Take full control of desktop or applications
Use tools to educate while resolving issues
Transfer and share files
Key Features
Intuitive Interface – rich and easy-to-use
No download required – participants can join in their browser without needing to download anything
Tablet support – participants can join on their iPad or approved Android tablets
Multi-Person Video – puts sales and service teams face-to-face with customers
Multiple Language Support – add additional or edit existing languages
Full End-to-End Encryption - SSL and up to AES-256 encryption
Integrated Audio Conferencing – Leverage BroadWorks® Meet-Me Audio Conferencing
Media Files & Live Video Stream – wide variety of formats accessibl
Closed Captioning - enable closed captioning in live sessions and recordings
Green Meter™ - provides automated tracking and calculation of emissions, travel and cost savings
Third Party Integrations - integrate with apps like Outlook, Salesforce, Facebook, etc. and open SOAP - based web services
Unified Messaging
Overview
Beyontel next-generation messaging goes beyond classic voice mail to take full advantage of a converged IP environment, providing users with the flexibility to use and manage their mes¬saging service from anywhere, and over any interface. Beyontel messaging provides all of the features of a traditional voice messaging solution, plus:
Fax and video messaging
Message delivery to any specified e-mail account
Message waiting notification delivered to the phone and to any specified mail or SMS account such as a cell phone
Integration of messaging capabilities with Beyontel servic¬es such as Call Back, Transfer, CommPilot Express, Escape to extension, Voice portal, and Instant voicemail
Integration of hybrid messaging systems within an enterprise
User and administrator self-provisioning and configuration through a Web interface
Product Data Sheet
Users can listen to the audio portion of video messages via a phone.
Users can record and select multiple greetings for differ¬ent needs: such as when lines are busy, don't answer, or are made unavailable through CommPilot Express or Do Not Disturb features.
Users can elect to have their messages delivered to their own private e-mail account, instead of, or in addition to, a default server.
Incoming message notifications can be sent to a se¬lected e-mail address or cell phone.
Users can set up configurable escape phone numbers, such as assistant, pager, or cell phone, where callers are directed when dialing 0 during the greeting.
Key Features
Call Processing
Voice, fax, and video messaging
Redirect on busy, no-answer, specific callers, or time of day
Direct transfer to voice mail
Storage
E-mail Server (SMTP, IMAP, POP3, Microsoft Exchange Server)
System-provided, Customer-provided, or User provided
System/Group Configuration
Email server
Maximum message size
Messaging
User Configuration
Email server
Greetings
Record Audio/Video greetings
Record personalized name
Escape number
Number of rings
Email notifications
MWI